I realized earlier this year I was doing a huge disservice to the social followers of the Content Marketing Institute. I was not making our social media accessible to all. I forgot to use alt text on images. I overlooked captioning on repurposed videos. I didn't know what PascalCase and camelCase meant. I used way too many emojis and gifs.
I had tremendous guilt. I believe representation matters. Yet here I was not making our content more inclusive. I was introduced to Alexa Heinrich on Twitter. After a few interactions, she taught me practical ways to make my content more accessible.
That's why I was thrilled Alexa agreed to come on the #CMWorld chat to talk about accessibility. The conversation was so insightful, I pulled every tweet from the hour. You can find them here and here.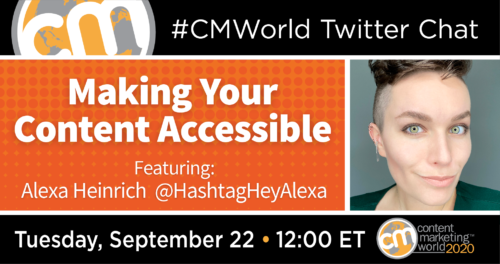 Everyone sees the world in a different way. Improving the accessibility of your content is about reducing barriers your audience may have experience. When writing and publishing articles, composing social media posts, or creating videos and images, there are options to consider in order to make your content impactful and inclusive.
As CMWorld speaker Penny Gralewski tweeted, this is an important topic – one that can benefit everyone who interacts with your content. I agree. What follows is a brief recap of our chat. I hope you will find it to be as valuable as I did.
A7: IMHO We need so much more training on inclusivity in #marketing! Should be an annual requirement for all marketing departments – stay current! #CMWorld

— Penny Gralewski (@virtualpenny) September 22, 2020
Why should accessibility be incorporated into your content marketing strategy?
A1: Accessibility is incredibly important to a good content marketing strategy because it helps your message reach more people! By implementing basic accessibility best practices, users with sensory disabilities are included in the conversation. #CMWorld

— Alexa Heinrich (@HashtagHeyAlexa) September 22, 2020
A1: Accessibility improves your reach, but we all benefit. As an example, I read an article that said something like 75% of online video is watched without sound. If you caption your vids, you better communicate your message. #CMWorld

— John Cloonan (@johncloonan) September 22, 2020
A1: Accessibility is important because otherwise, we're likely operating from our own personal experiences vs. the goals of the organization.

Reaching more audiences benefits your brand, but assuming your brand adds value, accessibility also benefits more users. #CMWorld https://t.co/HMx5A1qMK3

— (((Emily L. Phelps))) (@SouthpawTales) September 22, 2020
A1: Everyone can benefit from it, because while you make the content more accessible to people who need assists to take it in, people who don't need those assists gain awareness of their fellow human as well. It's totally crucial. #CMWorld https://t.co/hWXmeUfEAV

— Rachel Moore | #vGHC20 (@RachelMooreRS) September 22, 2020
What common barriers exist that make reading content harder? What practices can marketers today implement that will improve accessibility? And what might take a little time?
A3: On social, many marketers have come to love tactics that rely on excessive icon or character use like ASCII art and emoji illustrations, but these pose huge problems for people who use screen readers. The excessive use of unnecessary icons should be avoided. #CMWorld

— Alexa Heinrich (@HashtagHeyAlexa) September 22, 2020
A3: Another practice we're seeing quite frequently right now is brands and organizations posting graphics with huge paragraphs of flattened text on them. This content is inaccessible for screen reader users if you haven't added alt text to the graphic. #CMWorld

— Alexa Heinrich (@HashtagHeyAlexa) September 22, 2020
A3: If your organization needs to post a long statement or announcement, it's best to publish it as readable text on a webpage or blog and then link to it on social. This also makes it easier if you ever need to find and reference that statement in the future. #CMWorld

— Alexa Heinrich (@HashtagHeyAlexa) September 22, 2020
A3: Colour contrast! I don't even suffer from any type of vision impairment and low-vis text bothers me. Can't imagine if I did have an impairment. #CMWorld pic.twitter.com/pIqWm1hM8D

— andrew (@apdonovan1990) September 22, 2020
A3: Some barriers are font styles and sizes. They can cause issues for readability by humans and computers.
Tips for improvement:
Capitalize hashtags for better readability.
Enabling captions on video.
Use Alt text with descriptive words of the photos. #CMWorld

— Lisa Baer (@lbaer_lisa) September 22, 2020
When designing visual content, what accessibility principles and techniques should marketers keep in mind?
A5: The images you choose for your content should be intentional. Do they really add to your message or are they just flashy and distracting? And, of course, any image you post should have alt text assigned to it so screen reader users can also enjoy it. #CMWorld

— Alexa Heinrich (@HashtagHeyAlexa) September 22, 2020
A5: Alternative text, more commonly known as alt text, is the physical description assigned to an image that screen readers use to describe it aloud. Facebook, Twitter, Instagram, and LinkedIn all allow for custom alt text to be added to images before posting them. #CMWorld

— Alexa Heinrich (@HashtagHeyAlexa) September 22, 2020
A5: Most screen readers cut off alt text descriptions after 120 or 125 characters, so avoid posting images or graphics that feature an excessive amount of copy if you can't write effective image descriptions for them. #CMWorld

— Alexa Heinrich (@HashtagHeyAlexa) September 22, 2020
A5: Become finilar with best practices – how flashing and animation impact, color, keyboard accessibility, scrolling, navigation etc. #CMWorld

— Bernie Fussenegger #Digital360Chat (@B2the7) September 22, 2020
A5: In addition to the tips from Alexa, you should also make sure your fonts are readable. I like this tool, https://t.co/rRvKbXSVhE, which works to pair different Google Fonts together. As they're fairly universal, you're less likely to run into issue. #CMWorld

— Rachel Wendte (@rkwendte) September 22, 2020
What steps should marketers take if they want to create a content experience that is inclusive? What types of tools, training, or processes are helpful?
A7: I'm a big fan of testing my content before publishing it and having others proofread it. Is the message still clear on different platforms? How does it sound when I test it using the screen reader built into my iPhone? Does my alt text make sense? #CMWorld

— Alexa Heinrich (@HashtagHeyAlexa) September 22, 2020
A7: It's also vital that the team producing the content is diverse and inclusive. My team at SPC is diverse. We come from different backgrounds and cultures. We speak different languages, love different people, and expose ourselves to diverse learning experiences. #CMWorld

— Alexa Heinrich (@HashtagHeyAlexa) September 22, 2020
A7: As marketers, it's important that we're not only aware of what our audience wants, but also what they need. Ask yourself, does your content make your audience feel included? Does it make them feel represented? Is someone being left out? #CMWorld

— Alexa Heinrich (@HashtagHeyAlexa) September 22, 2020
A7: At the end of the day, creating accessible content is a small, but important, part of a larger objective: making sure that all of your communications are truly inclusive and ensuring that everyone is always included in the conversation and feels properly represented. #CMWorld

— Alexa Heinrich (@HashtagHeyAlexa) September 22, 2020
What efforts have been done to make your content more accessible? Are there any changes you plan to make in the future? Please share in the comments.
Content Marketing World offers attendees over 100 sessions and workshops presented by top industry leaders. And now you can experience it from the comforts of your home or office. The action starts in just a few weeks. Register now with code SM100 for $100 off at checkout.
Posted September 23, 2020 in: Event by Monina Wagner
---