Ever wonder how some marketers seem to have a source for everything? They include a blockbuster quote or groundbreaking research in every story they write.
Our CMWorld community has a built-in network of subject matter experts. Our members are generous with their knowledge and time. But sometimes you need a little extra something. That's when you can take advantage of HARO.
HARO, or Help a Reporter Out, connects journalists with experts spanning various industries. Writers have their request, called a query, sent to HARO's mailing list of over 850,000 users. With so many subscribers, HARO provides vast opportunities to find sources. CMI Editor Ann Gynn says that's good news for brands. "Using HARO means your content doesn't include the same five 'experts' everybody else in your industry quotes." 
Through her company G Force Communication, Ann advises organizations on marketing strategies and implementation. She uses HARO as a brand journalist as well as a source. We invited her to a recent #CMWorld Twitter chat to learn about her experience. The chat provided insights, tips, and "a-ha moments" for many of us. This post includes tweets from the informative hour.  
 For more on HARO, read their list of best practices and check out all the tweets from the chat.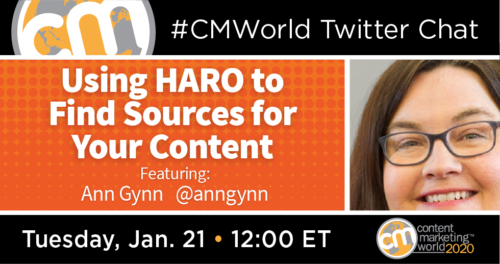 Our community started the conversation by explaining what HARO is.
A1: HARO – Help a Reporter Out – is a free service to connect sources with journalists – and that includes brand journalists. #CMWorld

— Ann Gynn (@anngynn) January 21, 2020
Brands often think of @helpareporter as a PR tool. They are less likely to think of it as a content development tool. #CMWorld

— Ann Gynn (@anngynn) January 21, 2020
A2: I've used @helpareporter for over a decade — as both a reporter and a PR/expert rep. It's a great tool. You can get access to experts/resources/journalists that you never expected/knew about. #CMWorld

— Tiffany Smith (@tiffanyiswrite) January 21, 2020
Many marketers have a solid network they can turn when creating content. What benefits are there to using Help a Reporter Out?
A2: HARO offers opportunity to supplement your sourcing. I use it to find fresh sources, examples, insight for my @CMIContent or for other clients. #CMWorld

— Ann Gynn (@anngynn) January 21, 2020
A2] As @crestodina says "A partner in content creation is a partner in content distribution."

BONUS: Remember to thank participants & let them know that it's live!#cmworld #contentmarketing cc @orbiteers

— HeidiCohen #CMWorld 2019 Speaker (@heidicohen) January 21, 2020
A2 DIVERSITY! #CMWorld pic.twitter.com/qnylujXa8z

— Dan Willis #SMMW20 🎙🎥 (@MLLNNLmotivator) January 21, 2020
A2: I assume you would be able to reach a whole new audience as well. #CMWorld https://t.co/jARXLU0VdH

— Andi Robinson (@hijinxmarketing) January 21, 2020
A2: EVERYTHING comes back to relationships! When you HARO then you reach out to make a new connection that can lead to new relationships.#CMWorld https://t.co/PxK2Yfh8oT

— Kathryn Lang (@Kathrynclang) January 21, 2020
When looking for contributors, what should your query include to ensure you receive relevant pitches?
A3: Be specific and succinct. Don't say "I'm working on an article about the popularity of bananas." Say "Seeking an from expert on the health benefits of bananas." #CMWorld

— Ann Gynn (@anngynn) January 21, 2020
A3: Include your parameters. It could be "Want to do phone interview in next 2 days." Or "Include a few sentences and headshot in the response." #CMWorld

— Ann Gynn (@anngynn) January 21, 2020
A3. Make sure to qualify your pitch so you get the kinds of respondents you need. Identify requirements around experience and qualifications to dial in on your best source. #cmworld pic.twitter.com/e9gxYwFn18

— Alison Tedford (@alliespins) January 21, 2020
A3 Want to receive more relevant pitches? Be sure to include info about what you're NOT looking for. Don't waste pitchers' time, or yours. #cmworld

— Martin Lieberman (@martinlieberman) January 21, 2020
A3: We don't do this at LVP, but when I've pitched for side hustle in the past, I think how pubs convey their submission process is pertinent. Ask for respect, credibility, and professionalism, and you shall attract the right audience w/ the right strategy to boot. #CMWorld

— Julia Rose (@Missjflar) January 21, 2020
You may get bombarded with dozens of HARO responses to a single query. What should you take into account when choosing a source/interviewee?
A5: I look for 2 types of replies: (1) the best crafted response that stands out from all the others making the same point and (2) the unique response I couldn't get from anyone else. #CMWorld

— Ann Gynn (@anngynn) January 21, 2020
A5: I always get rid of "thin" responses – desperate for any type of coverage for their business, their response (or connection to the topic) is thin. #CMWorld

— Ann Gynn (@anngynn) January 21, 2020
A5: Throw out all the self-serving replies, then throw out all the cliche-ridden stuff, then all the stuff filled with jargon, then the stuff filled with exclamation points. That should reduce the pile by about 95%… 😊 #CMWorld

— Mark Armstrong (@mrstrongarm) January 21, 2020
We've talked about finding sources. But can HARO be used to find content marketing ideas?
A7: I've gotten blog post ideas from my own response to a HARO query. Sometimes I realize I have some knowledge I haven't shared before; sometimes I realize there's more to said on a subject; and sometimes I come across new info while researching a HARO query. 💪 #CMWorld

— Mark Armstrong (@mrstrongarm) January 21, 2020
A7: I think it could great for finding ideas – anytime others are talking about something in your niche, market or industry (or that you can lean towards those) it is something to pay attention to.#CMWorld https://t.co/xqniKxfc4V

— Kathryn Lang (@Kathrynclang) January 21, 2020
What experience have you had with HARO? Leave us a note in the comments below. We'll end with a wrap up of additional tips from Ann and our community.
If you subscribe to the Master HARO email, you get all the industries. I use that one b/c some topics cross over industries. #CMWorld https://t.co/2QKi5l7vSv

— Ann Gynn (@anngynn) January 21, 2020
This! Definitely make sure that as a writer you are giving yourself enough time to collect the quotes and write your story. The deadline you put on the HARO query should NOT be the date on which your story is due to your editor. #CMWorld https://t.co/Jdgm6QyoWb

— Help a Reporter Out (@helpareporter) January 21, 2020
A5: Getting a bunch of different responses to your query may tell you something about your request…is it too broad? Could you break it down into several different topics? #CMWorld

— Mike Myers 🤠 (@mikemyers614) January 21, 2020
I love using Google forms. I just sent an email for Podcasts and that has been super helpful combing through the responses. #CMWorld

— Christoph Trappe (@CTrappe) January 21, 2020
Right?

I'd make a Resource list in Twitter and engage with them from time to time. Connect on LinkedIn, too.

Don't be a stranger. 🙂 #CMWorld

— Tod Cordill (@todcordill) January 21, 2020
Keep an eye on the CMI blog this month. Ann is writing an article on finding sources, and it includes – you guessed it – HARO.
Looking to make meaningful connections with potential sources and other key marketers? Attend Content Marketing World, October 13-16 in Cleveland, Ohio. Learn from the people who are not only succeeding with content, but also planning for the future. Use code SM100 for $100 off our Super Early Bird rates. 
Posted January 22, 2020 in: Event by Monina Wagner
---