We've all been there. There's pressure from your audience (and your boss) to come up with standout content. That's a challenge Melanie Deziel says can be quickly and easily fixed. Melanie is Chief Content Officer at Storyfuel and author of "The Content Fuel Framework: How to Generate Unlimited Story Ideas." In her book, she shares how you can brainstorm content ideas quickly and easily. Melanie was a recent guest on the #CMWorld Twitter chat and discussed how you can differentiate your content by identifying your focus and embracing different formats.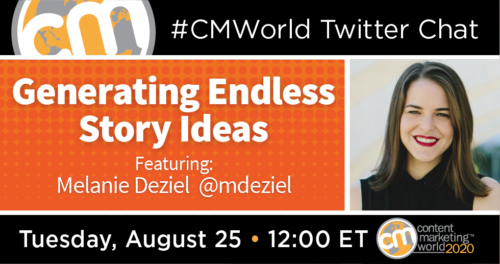 Here's a look at our conversation with the CMWorld community. Gain more insights when you check out our chat's Twitter Moment or pick up a copy of Melanie's book.
How do you define what makes a good, quality content idea?
A1 A good content idea engages the reader, aligns with the broader marketing goals, and strives to provide the best and most credible information possible #CMWorld

— Melanie Deziel (@mdeziel) August 25, 2020
A1 It also has a clear purpose, is formatted based on the story's needs, is executed to the best of your abilities, and is distributed strategically #CMWorld

— Melanie Deziel (@mdeziel) August 25, 2020
A1 #CMWorld
1. Relevant
2. Funny
3. Interesting
4. Answers a question
5. Provides knowledge
6. Captures attention
7. Fuels creativity in reader

— Smita (@Smita_DigiMarke) August 25, 2020
A1: A good content idea is something that will catch an audience's limited attention and inspire them to engage with it.

It provides some type of value and connects with larger goals #CMWorld

— Alexis Rogers (@alexismrogers) August 25, 2020
A1: A good idea feels approachable, has room to expand in a few directions, and can be tested across multiple mediums. #CMWorld

— Rachel Wendte (@rkwendte) August 25, 2020
When it comes to content marketing, there's a focus on people, brand, and tech. Marketers also concentrate on format. At what point do they intersect?
A2 The key thing is to decide the Focus BEFORE the Format! When we decide format first, we end up forcing an idea into a format that may not suit it #CMWorld

— Melanie Deziel (@mdeziel) August 25, 2020
A2 When it's done poorly, they start with format. #CMWorld

— Jim MacLeod (@JimMacLeod) August 25, 2020
A2: They should be defined at the strategy level, and the format should come last. You can't start with format and backtrack into everything else. #CMWorld

— Berrak Sarıkaya 😷 (@BerrakBiz) August 25, 2020
In Menlanie's book, she shares 10 different focuses for our stories. These include people, details, process, and data. What's one focus content marketers are likely not using now, but should be?
A4 Process-focused content is key right now. We've seen increased searches for "DIY" "how to" and related terms amidst COVID lockdowns and adaptations. #CMWorld

— Melanie Deziel (@mdeziel) August 25, 2020
A4 Since we don't have access to the people, places and products we normally do, instructional process-focused content that helps people achieve things is huge! #CMWorld

— Melanie Deziel (@mdeziel) August 25, 2020
A4 As many of you said, I'd also try to focus on data where you can. This helps combat skepticism in this age where people are weary about where information comes from #CMWorld

— Melanie Deziel (@mdeziel) August 25, 2020
A4: I think content marketers can always focus more on genuinely helping their audience. Don't focus on a blog post about how you can help, just help. #CMWorld

— Mike Myers 🤠 (@mikemyers614) August 25, 2020
A4) Definitely data.

A lot of content out there is regurgitated, without any new data to analyse.

Conduct your own experiments, own your data, take leadership in terms of finding new angles and ways to think about things.#CMWorld

— Itamar Blauer (@ItamarBlauer) August 25, 2020
A4: Measuring the effect of content on company objectives. We get stuck 'creating' content without regard to how it helps the organization. Of course, we want to help customers, but we also need to help the company. #CMWorld https://t.co/STQmiwNfq2

— Andi Robinson (@hijinxmarketing) August 25, 2020
Let us know how you come up with content ideas. I'd love to hear about them in the comments.
Want to know more about the power of the creative process? Then plan to attend Melanie's keynote at Content Marketing World!
Posted August 26, 2020 in: Event by Monina Wagner
---