If you're a marketer, chances are good you've heard the term "adaptive content" before. But are you familiar with what it is and how it's changing the content marketing landscape? 
We decided to tackle the topic on this week's #CMWorld Twitter chat. It only made sense for us to reach out to Urbina Consulting Founder Noz Urbina for guidance. A regular Content Marketing World and ContentTECH Summit speaker, Noz is a globally recognized content strategy consultant. He shared with our community key considerations when starting an adaptive approach and shared tips on how marketers can best work with strategists and tech teams. What follows is a brief summary of our chat.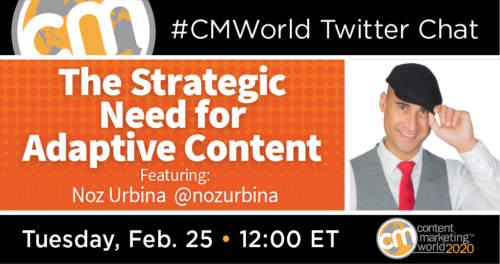 To begin the chat, Noz defined adaptive content. You can read his excellent explanation in this blog post. 
What are some of the reasons a brand needs adaptive content? 
A1: Adaptive content means customer centric content. No customers no business. #CMWorld https://t.co/t281GxcCVG

— Carlarjenkins (@carlarjenkins) February 25, 2020
A1.

Why do
brands need
adaptive content?

_____

Adaptive
content

👇🏽

Allows
you to use
personalization

across multiple channels
to enhance the overall
customer experience!

_____

It is:

-meaningful
-mindful
-intentional
-impactful#cmworld pic.twitter.com/hrqDX0Rt7K

— Gabriela Cardoza (@CardozaGab) February 25, 2020
A1.

As a brand you need to stay updated and in trend to match audiences likings. Easy to digestible, Visually appealing and To the point content is all you need at that time. And that is what Adaptive content is.

It should be,
A text, Video, GIF and even a emoji. #CMWorld

— ⚡ Vraj Shah 📸 (@vrajshahspeaks) February 25, 2020
While it takes a team to implement adaptive content initiatives, who in your org should lead these efforts?
A2: Honestly, it can fall anywhere where there needs to be either more content on more channels, or more relevant content for a diverse set of audiences. I've seen it in product content, content marketing, support, knowledge management, and technical documentation #CMWorld https://t.co/iH4LjBSVCC

— Noz Urbina (@nozurbina) February 25, 2020
A2. Depends on the way your org manages all of its content, but ideally a content strategist or content engineer is often in the best position to understand and plan for the complexity. #cmworld https://t.co/h4L4vyYm1l

— Carmen Hill (@carmenhill) February 25, 2020
What kinds of projects lend themselves to being pilot or "start small" projects for teams to begin to implement adaptive content?
A3: A great place to start with adaptive content is to look at how your acquisition website can talk differently to customers (ie not prospects) who might land there. #CMWorld

— Sue Brady (@SueBrady) February 25, 2020
A3: Starts with the data and understanding your customers/audiences. Personalization and more 1:1 marketing opportutnies are good small steps to take with the adaptive content. #CMWorld

— Bernie Fussenegger #Digital360Chat (@B2the7) February 25, 2020
Hyper-personalization has given adaptive content a bad name. What can we do with what we know about our customers to personalize their experiences without scaring them away?
A5: The creep factor is your guide. Just about any marketing technique can be abused. We're in an era of desperate global competition and still in a "Move-fast-break-stuff" culture. Here's a simple answer: Ask people what they want to see! #CMWorld https://t.co/9tupENRBTe

— Noz Urbina (@nozurbina) February 25, 2020
A5: Adaptive doesn't have to be server-side magic, it can be an internal process that you use to generate 10x or 100x more value-added content for your users. Let them set their own preferences/cadence/feeds so they feel in control. #CMWorld

— Noz Urbina (@nozurbina) February 25, 2020
A5: I look at data the way I look at meeting someone IRL at an event, out in a bar, or on a trip. Whatever you openly share w/ me is something that I can use to inform strategy. Whatever I have to search for is something I need to proceed carefully w/ to have your trust. #CMWorld

— Rachel Wendte (@rkwendte) February 25, 2020
A5: This is an essential reason to also work on your brand authenticity and engagement with your users. When people feel an emotional connection with your brand, personalized content seems (hopefully if you're not overdoing cadence) less creepy and more caring. #CMWorld https://t.co/EMgak7SOLp

— Leah Ryder (@leahryder) February 25, 2020
How do you review adaptive content when you don't know what the result will look like?
A6: Go back to the beginning. If you have a comprehensive strategy based on accurate data with clear goals defined, your content should reflect that. If the content is not staying true to your stated objective, figure out why. Is the content off or the strategy? #CMWorld https://t.co/I0Zy3egw43

— Andi Robinson (@hijinxmarketing) February 25, 2020
A6: You should benchmark other companies in your field that is doing adaptive content to get some ideas for your pilot program. #CMWorld https://t.co/YePwIm8dBd

— Carlarjenkins (@carlarjenkins) February 25, 2020
A6: This is just one part of it, but it's fundamental: Be really clear on your baseline metrics w/o adaptive content and ensure the tests are as clean as possible so that you know the results are directly attributable to the adaptive content. #CMWorld https://t.co/CtzD5ooMP9

— Leah Ryder (@leahryder) February 25, 2020
What practical applications of adaptive content have you seen? Let us know in the comments below. 
Ready to roll up your sleeves with adaptive content? Noz is leading a half-day workshop at #ContentTECH Summit. We're talking more than an overview. Think hands-on exercises and practical takeaways. Save your seat now! 
Posted February 26, 2020 in: Event by Monina Wagner
---