Have you seen the movie "Inside Out"? A young girl gets uprooted from her home in the Midwest and moved to California. She must wrestle with her emotions as she navigates through her new life.
Honestly, I found myself taking a look inside my own mind. Maybe that's why I'm fascinated with emotional marketing.
As marketers, we're aware of the tactics used to reach audiences. That often includes using emotion to make them take notice. But how can we tap into emotions without appearing calculating? What emotions will help our brands come across authentic and helpful? To find out, we asked Amanda Milligan to the #CMWorld Twitter Chat. Amanda is Marketing Director at Fractl. The agency conducts an annual study on emotions that make content go viral. Their latest report, How Does Emotional Content Drive Engagement on Social Media?, dives into the topic further. Amanda took our CMWorld community through its results.
Below is a quick recap of our discussion.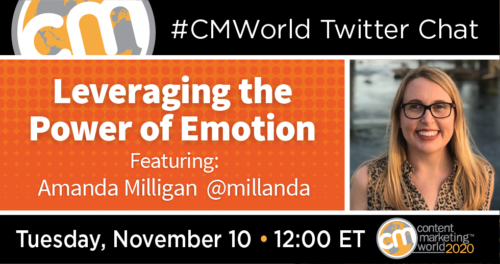 Which emotions attract the most engagement in content? How should marketers choose the appropriate emotions to leverage?
However!

If you want to better understand your audience, consider what emotions commonly appear on publications they write.

Our recent study looked at some of the top news publications and the common emotional reactions they spark. https://t.co/AN7wVr78sQ #CMWorld [2/2]

— Amanda Milligan (@millanda) November 10, 2020
A3 Pulling at heartstrings is always a good start. But always, always be real. Don't concoct a story. #CMWorld https://t.co/Y4FbfYAxgj

— Shane Shaps (@520eastbrands) November 10, 2020
A3: #CMWorld

Humor, extreme agreement/disagreement, and disgust are likely to garner more engagement. You definitely want to be careful with things like disgust. While it can well with humor or satire, it can also massively backfire on your brand if not executed well.

— Click Control Marketing (@ClkContrl) November 10, 2020
A3: I think it depends. Currently, empathy in content is predominant due to the pandemic. But, I also think comedy is a huge one when appropriate/ I think specifically of the @Oreo "Dunk In The Dark" content. #CMWorld

— Joseph Kalinowski (@jkkalinowski) November 10, 2020
Some people may see triggering consumer feelings as a form of manipulation. How can marketers walk the line but still have an impact on consumer actions?
Remember that ultimately your content still has to help, inform, or entertain.

Start from this genuine place of wanting to contribute, and THEN identify which emotions will be relevant to highlight. #CMWorld [2/2]

— Amanda Milligan (@millanda) November 10, 2020
A4: What is your intention.. Does it match your values? #CMWorld

— Steven Diaz (@mrstevendiaz) November 10, 2020
A4. GREAT question. It comes down to honesty and respect. Be authentic to who your brand is. Don't fear a little vulnerability. And respect your audience's intelligence.

And if you go too far, admit it. Maybe poke a little fun at it. #CMWorld https://t.co/dGIBmDrFjl

— (((Emily L. Phelps))) (@SouthpawTales) November 10, 2020
A4: I don't think it's manipulation unless you don't really care about what you're doing to elicit the response. Authenticity is key (as always). #CMWorld https://t.co/F8b64IuPgy

— Jeremy Bednarski (@JeremyBednarski) November 10, 2020
How do you create emotional content for a topic perceived as dry/boring?
A5. Even the most "boring" topics impact people.

What about a company that sells roofing materials? It's not just construction; it's about families feeling protected — about feeling safe from storms and being proud of the home you have.

Emotions are never boring! #CMWorld pic.twitter.com/ACqONCX09G

— Amanda Milligan (@millanda) November 10, 2020
A5: I'm gonna say what @SydniCraigHart said at #CMWorld: Talk to your customers! Surveys, phone calls, whatever – they can tell you their stories in their own words that are laced with emotions – the "why" behind why they're thinking about this "boring" topic.

— Jill Golden (@_goldengrams) November 10, 2020
A5] The BEST way to add emotion to dry or boring industries is to use stories where your product is the hero. @annhandley & @cc_chapman wrote this their book, Content Rules.

It's based on the Heath Brother's Made-To-Stick #CMWorld #contentmarketing #digitalmarketing pic.twitter.com/IckI4Fk0N1

— HeidiCohen – Top Global Marketer (@heidicohen) November 10, 2020
A5:

There's an emotional aspect to everything. For dry/boring topics, you just need to peel back the layers.

How does this lead to a benefit? How does that benefit lead to a higher level one? A human need? And what emotions does addressing that need conjure?#CMWorld https://t.co/e5rY24RMtC

— James Gerber (@JamesGerber) November 10, 2020
Have you found emotional marketing effective? Let us know.
We get overcome with emotion when we talk about the CMWorld community. We're a friendly bunch! Join lively conversations in our Slack group. Share insights when you tweet on our weekly Twitter chats. Let's have fun!
Posted November 11, 2020 in: Event by Monina Wagner
---